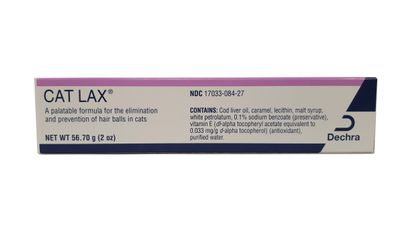 Cat Lax
Cat Lax
$15.00
Cat Lax® prevents hairballs, settles stomachs and improves digestion in cats. It is easy to administer and readily accepted by most cats.
Dosage & Administering:
Many cats will accept Cat Lax® readily. For finicky animals place a small amount on paw - cat will lick his paw and become accustomed to the pleasant taste.
For Hair Ball Removal:
For average weight adult cats, administer once daily. Squeeze approximately one inch of Cat Lax® from tube. For smaller cats, vary amount accordingly.
For Prevention of Hair Ball Formation:
Administer two or three times per week. Your veterinarian may give specific directions for treatment, in which case follow veterinarian's instructions.
Cat Lax contains: Cod liver oil, caramel, lecithin, malt syrup, white petrolatum, 0.1% sodium benzoate, (preservative), 0.036 I.U./g Vitamin E (dl-alpha-tocopheryl Acetate) (antioxidant), purified wate
SKU: CLAX2159