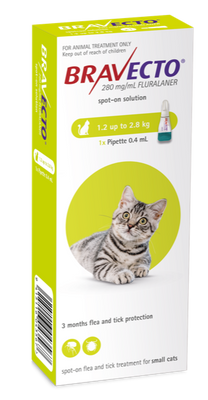 Bravecto Spot-On Cat Small
Bravecto
$53.00
Buy on subscription
Bravecto Spot-On for cats provides flea and tick protection for 12 weeks with one single treatment.
Small: 1.2 - 2.8 kg
Medium: 2.8 - 6.25 kg
Large: 6.25 - 12.5 kg
Active ingredient: Fluralaner
For use on cats only.
The spot-on solution is available in different strengths for cats of different weights.
Treats and controls existing flea and tick infestations
Sustained control of new flea and tick infestations
Part of a treatment strategy for the control of flea allergy dermatitis
Highly effective against fipronil resistant fleas
Bravecto kills fleas within 12 hours and ticks within 48 hours
Bravecto spot-on solution for cats is safe for flea treatment in cats from 11 weeks of age and over 1.2kg
The product should be applied in one spot (cats up to 6.25 kg body weight) or two spots (cats greater than 6.25 kg bodyweight) at the base of the cat's head. It is important to deliver the solution onto an area that cannot be easily licked by the cat. As cats are fastidious groomers, they may inadvertently ingest product if easily reached. Ingestion may cause adverse reactions and will remove product from the coat. If multiple cats are treated and may mutually groom, it is recommended that cats are separated while product dries.
Please refer to Bravecto product leaflet for full claims.

SKU: BRAVCSS