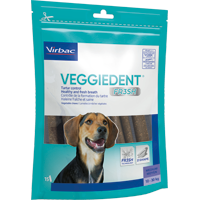 VeggieDent® Dog Medium
VeggieDent
$20.00
VEGETABLE-BASED CHEW FOR DOGS TO HELP CLEAN TEETH AND FRESHEN BREATH.
C.E.T.® VEGGIEDENT® Tartar Control Chews for Dogs have an exclusive Z-shape which works with a dog's chewing action to reduce plaque and decrease tartar formation.

These palatable chews have no animal-origin ingredients. Available in 4 sizes; Extra-Small for dogs under 5kg, Small for dogs 5-10kg, Medium for dogs 10-30kg and Regular for dogs larger than 30kg. Each chew is designed with the bite strength and chewing needs for each size dog.
Better teeth, better breath.
Cleaner teeth
VeggieDent® chews' unique vegetable matrix helps to 'brush' teeth while chewing.
Clinically proven
Regular VeggieDent® use reduced plaque in dogs by 37% and reduced calculus accumulation by 70% in clinical trials.
Unique Z shape
VeggieDent® chews' shape makes them easier for mouths to pick up, improves contact with teeth and provides enhanced chewing action.
Gentle on teeth
VeggieDent® chews are flexible to chew making them tough on plaque & calculus, but gentle on teeth and gums.
Highly palatable
Great tasting and made from natural ingredients. Dogs really want to get their teeth into them.
SKU: CET14692