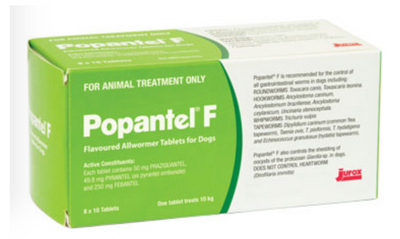 Popantel F Allwormer for Small Dogs <10 kg, single tablets
Popantel
$4.00
Buy on subscription
Popantel® F Allwormer provides a simple, quality intestinal wormer component to your vet's recommended control program.

Popantel® F contains the proven and trusted combination of Febantel, Pyrantel and Praziquantel, providing full coverage for all of the most common intestinal parasites.

Dosing by weight. Provides 3 months of protection.
Sold by individual, full tablets.
Active ingredients: FEBANTEL, PYRANTEL and PRAZIQUANTEL (10 kg dose: 250 mg, 49.8 mg and 50 mg respectively; 35 kg dose: 875 mg, 174.4 mg and 175 mg respectively)

Efficacy against all susceptible species of internal parasites
Blister-packed tablet
Gentle on the stomach, so there is less chance of vomiting and gastric upset than with other wormers
Yeast flavour for easy dosing
Can be used in all dogs, including pregnant and lactating animals
Made with no beef, pork, or lamb proteins (which have been linked to skin allergies)

For the control of:
Roundworms (Toxocara canis, Toxascaris leonina)
Whipworms (Trichuris vulpis)
Hookworms (Ancylostoma caninum, A. braziliense, A. ceylanicum, Uncinaria stenocephala)
Tapeworms (Dipylidium caninum, Taenia ovis, T. pisiformis, T. hydatigena and Echinococcus granulosus(hydatid tapeworm)).
Also controls the shedding of oocysts of the protozoan Giardia spp.
SKU: POPANDS