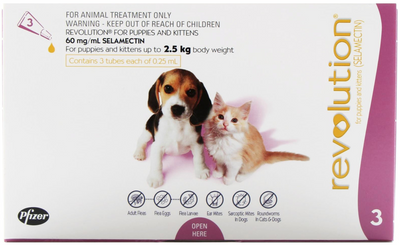 Revolution <2.5 kg Kitten and Puppy 3-pack
Revolution
$40.00
Buy on subscription
Revolution (Selamectin) for puppies, kittens and small rabbits provides an easy and effective way to protect your pets from fleas, ticks and other harmful parasites, such as roundworms, ear mites and heartworm.
Safe for puppies, kittens and small rabbits weighing up to 2.5 kg, aged 6 weeks and older.
Active Ingredient: Selamectin

Revolution for Puppies, Kittens and Small Rabbits is a highly effective topical treatment that offers all-round parasitic protection for your pet.

The formula is specifically designed to target heartworm, intestinal worms, fleas, ticks and ear mites, and can also aid in the treatment of sarcoptic mange.

Revolution also helps to prevent reinfestation; it kills fleas at the egg, larvae and adult stage.

For best protection and results, Revolution for Puppies and Kittens should be applied on a monthly basis.

This topical treatment is waterproof after two hours of application.

Use as directed on the label.
SKU: REVOLPK