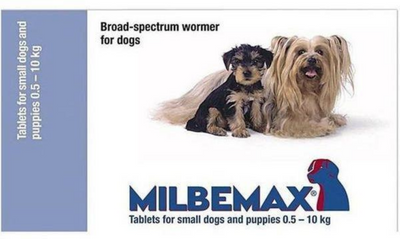 Milbemax Small Dog <5 kg
Milbemax
$3.50
Buy on subscription
Designed to be the easiest way to give broad spectrum protection against internal parasites. With tiny tablets and only one tablet required to treat your dog up to 5kg, worming is less stressful for you and your dog.
Key Benefits:
Tiny tablet that works from the inside to kill internal parasites fast.
Palatable beef-flavoured tablet that many animals will take straight from the hand.
Offers your dog and family effective protection from hookworm, roundworm and tapeworms.
Safe for puppies from 6 weeks of age and 500g bodyweight
Made Specifically For: Treating worms in your dog
Milbemax Classic Worming Tablets are for the treatment and control of larvae and adult stages of gastrointestinal worms such as Hookworm, Roundworm, Whipworm and Tapeworm.

Milbemax Classic contains Milbemycin 2.5 mg and Praziquantel 25 mg. The tablet is white in colour and oblong in shape. Milbemax Classic is administered orally either directly to your dog or mixed with their food.

Dosage: For routine control, adult dogs should be treated every 3 months. In the event of a heavy worm infestation, a repeat dose should be given after 10 days:

0.5 - 1 kg body mass - 0.5 Tablet
1 - 5 kg body mass - 1 Tablet
5 - 10 kg body mass - 2 Tablets
10 - 15 kg body mass - 3 Tablets
15 - 20 kg body mass - 4 Tablets
20 - 25 kg body mass - 5 Tablets

Milbemax Classic Worming Tablets for small dogs is suitable for use on puppies, adult dogs, old dogs, working dogs, pregnant and lactating bitches.

Puppies should be dewormed every 2 weeks from 2 - 12 weeks old and thereafter at intervals of 3 - 6 months to control worm infestations. Pregnant bitches should be dewormed 10 days prior to whelping.
SKU: MIL14079