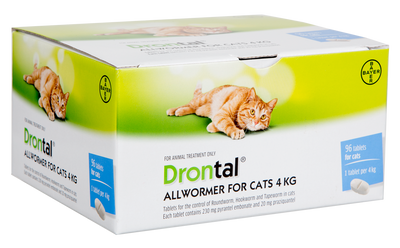 Drontal AllWormer Small Cat 4kg Single Tablet
Drontal
$3.00
Buy on subscription
Drontal for cats removes all common feline intestinal parasites including hookworms, roundworms, whipworms and tapeworms. This wormer can be used on kittens from one month of age and 500g bodyweight.
A single dose of Drontal is effective in treating all these internal parasites. And the user-friendly taste tab formulation makes the dosing task simpler. The use of this intestinal worm medication does not require fasting prior to, or after administration.
Key Features of Drontal:
Reliable and effective control of all common intestinal worms in cat.
Suitable for young and old felines.
Excellent safety profile, well tolerated by pets.
Dosage is based on weight.
Each Drontal tablet for Cats contains praziquantel and pyrantel.
For SMALL CATS up to 4kg Only. Sold as single tablet.
The recommended dose rates are 57.5 mg/kg pyrantel embonate and 5 mg/kg praziquantel. This is equivalent to one Drontal small Cat Film-coated Tablet per 4 kg body weight and 1 Drontal Cat large Film-coated Tablet per 6 kg body weight.

SKU: 10985