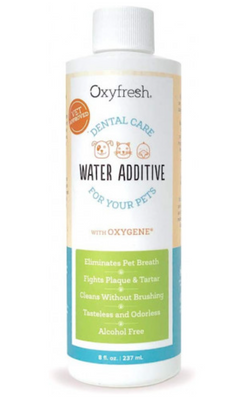 Oxyfresh Water Additive 250ml
Oxyfresh
$20.00
Finally, home dental care for pets made easy and that works! Fight plaque, promote healthy gums, and give them the freshest breath. Just add to their water bowl.
NO-BRUSH SOLUTION FOR PET BAD BREATH. Finally, pet home dental care made easy! Don't just mask pet bad breath; safely eliminate it at the source. Our non-toxic solution for dogs and cats is a must-have when it comes to pet fresh breath and overall dental health.
By the age of 3, 70% of cats and 80% of dogs have some form of periodontal disease, which can take years off a pet's life. That's why we developed our innovative Pet Dental Water Additive. It safely and effectively cleans dog's and cat's teeth and gums, helping protect them from plaque and pet bad breath.
Our patented blend of Oxygene® and zinc safely eliminates bacteria that causes bad pet breath, while also removing plaque buildup and protecting gums.
Unlike other brands, our Pet Dental Water Additive is completely tasteless and odorless so even the pickiest dogs or cats can't detect it. We love pets, so all of our formulas are completely safe for both cats and dogs and 100% non-toxic.
SKU: 380000